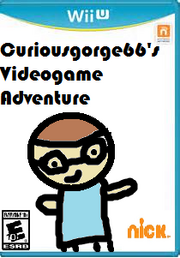 Curiousgorge66's Videogame Adventure is a videogame released for the Nintendo 3DS in December 2014 in North America, and for the New Nintendo 3DS in Japan. It will be the final game released on the Nickelodeon Gaming System before it's production shuts down. It was released for Wii U on February 14, 2015.
Gameplay
Join Gorge as he has to save the world from Dores.
Characters
Playable
NPCs
Day (voiced by PB&Jotterisnumber1): It's obvious that she isn't a playable character.
Girl species: Some of the species appear throughout the game.
Girl Princess: Can be found dead in one level referencing The Fairly Oddparents episode "Abracatastrophe".
Items
Caffeine-free Sun Drop: Gorge's favorite drink. Collect 100 cans to receive an extra life.
Robo Head: A drawing of Robo's head. Collect one receive an extra life.
Peanut-Shaped Coconuts: While playing as Molly, this replaces the Jet Pack. If you collect it, Molly will grow double her original size. And again. And again. And so on.

Soda: While playing as Gorge and Timmy, collecting these will act like a coin. While playing as Molly, she would gain magic.
Bulging Shoes: While playing as Molly, collect these and suddenly you have a huge problem controlling her.
Worlds
Trivia
The Nintendo 3DS port is exclusive to North America; the New Nintendo 3DS was already in some regions.
All the BGMs consist of real songs from the 1970s or 1980s.
This is the final game for the Nickelodeon Gaming System.
The original Nintendo 3DS/Nickelodeon Gaming box art has Dores jump at Gorge. In the Wii U box art, Dores is excluded from the box art.
Errors
On the Nintendo 3DS box art, "Curiousgorge66's Videogame Adventure" is misspelled as "Curiourgorge66's Videogame Adventure". This was fixed in the Wii U release.
Community content is available under
CC-BY-SA
unless otherwise noted.