Rated TV-G - Most parents would find this program suitable for all ages

This show, The Daniel and Cindy Show, is rated TV-G, meaning meaning it contains content that may be suitable for all ages

The Daniel and Cindy Show 
 
In-show intro from 1995-2000 
Genre:
Animation, Comedy, Slapstick, Adventure, Fantasy 
Creator:
Daniel A. Gomez 
Writer:
Geoff Harness

Bob Rugger 

Director:
Tom Rugger 
Voices:
Daniel A. Gomez, Tress MacNielle, Tara Strong, Tom Kenny, Charlie Adler, Jeff Bergman, Billy West 
Theme composer:
Milton Stevens 
Opening theme:
Time to Start D&C 
End theme:
Time to Start D&C (Instrumental) 
Number of seasons:
4 
Number of episodes:
72 
Executive producer:
Daniel A. Gomez 
Producer:
Daniel A. Gomez 
Asst. producer:
Cynthia Fletcher 
Production Company:
DG Productions

Warner Bros. Domestic Television 

Editor:
John Santigue 
Runtime:
30 Minutes 
Original Channel:
CBS (1994 Special)

Daniel Network (1995-2000 Series) 

Picture format:
4:3 (SD) 
Audio format:
Stereo 
First aired:
December 13,1994 
Last aired:
April 19, 2000 
Preceded by:
Daniel and Cindy (1937-1960) 
Followed by:
TBA (2018?) 
Offical website:
www.dn.com/danielandcindy
The Daniel and Cindy Show 
was an American animated television series produced by Warner Bros. Television Animation, in Conjunction with DG Productions, inc. The show premiered on December 13, 1994 on CBS with the episode, "A Daniel and Cindy Christmas Meltdown." It soon officially premiered on January 18, 1995 on Daniel Network with the episode, "Another Day, Another Pie." By Late Season 2, the show was divided into 2 segments, one being the Daniel and Cindy portion, and the latter being Jeff Bubbacat. The show met its demise in April 19, 2000 with "The Jokes are so Midnighty," mostly because Warner Bros. has ended its contract with DG Productions to finish another endeavor, "Pinky, Elmyra, and the Brain." The voices of Daniel and Cindy are as follows: Daniel Gomez as Daniel, and Tress MacNielle as Cindy.
Synopsis
The show mainly centers around Daniel and Cindy at its top quality, including running gags and off the wall jokes. In some episodes, some story arcs are so long that they had to split them into 4-5 episodes. Some episodes also parody favorite scenes in movies. Episodes, such as "Space Revolts," parody franchises, such as Star Wars or 2001: A Space Odyssey. For the Jeff Bubbacat portion, the segments revolve around a house-cat getting tortured alive by an unknown canary bird in a Bob Clampett-fashion.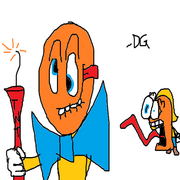 Reception
The show has gained generally positive reviews from critics. Rotten Tomatoes gave it an 85 by describing it, "Stays true to the original shorts, despite the budgeted animation in the first 35 Episodes of the show." Metacritic gave it a 96/100 for its beautiful, wacky, cartoonish design.
Rating
TV-Y7 (1997-2003)
TV-G (2004-Present)
Channel
- CBS (Pilot) (1994)
- Daniel Network (1995-2006; 2010-2017)
- Cartoon Network (1999-2000; 2007-2009)
- Kingson (2005-Present)
- DGToons Network (2002-present)
Episode List
Please refer to: http://fiction-foundry.wikia.com/wiki/The_Daniel_and_Cindy_Show/Episode_List
Gallery
Community content is available under
CC-BY-SA
unless otherwise noted.