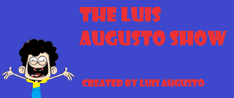 The Luis Augusto Show (also known as Luis Augusto's Gang and the simply as Luis Augusto) is an Brazilian-American animated television series created by Luis Augusto. The show first premiered on June 17, 1989 with the first episode "Luis' Clues"/"Student Wanted"/"A Perfect Day in School Ananda" and the series has ended on November 28, 2013. The show, its is the inspiration of the cartoons, Looney Tunes, Mickey Mouse, Hanna-Barbera cartoons, Mad Magazine, Woody Woodpecker and MGM cartoons. The Luis Augusto Show was originally aired on ABC, on June 17, 1989 when was the first premiered the show, during the first season, but, now was aired on Nickelodeon, when the show ended the first season on 1990. A reboot titled The New Luis Augusto Show first aired on Nickelodeon in late 2015. This became a scandal that deluded many fans of the show and Luis Augusto found out and decided to create The New Luis Augusto Show.
Characters
There are the main characters from the show, mains, villains, secondaries, mirors, etc. also contains the crossover and cameos characters
Main characters
Luis Augusto
SpongeBob SquarePants
Patrick Star
Woody Woodpecker
Bugs Bunny
Daffy Duck
Mickey Mouse
Felix the Cat
VHS Guy
Villain characters
Son Goku
Star Butterfly
The Guppies
Lincoln Loud
Silene Oliveira (Tokyo)
Vegeta
Peppa Pig
Coraline Jones
Dipper and Mabel Pines
Cricket Green
Steven Universe
Norman Babcock
The Ponies
The Fortnite Players
Felipe Neto
Grizzly, Panda and Polar
Gabriel Diniz
Marinette Dupain-Cheng
Jorel's Brother
Luccas Neto
The Free Fire Players
Dora Marquez
Boots the Monkey
Carly Shay
Sam Puckett
Naruto Uzumaki
Compadre Garañón
Christian Núñez
St. FireyBoy
Secondary characters
Gabriel Santos
Miguel Angelo
Sarah Vitoria
Popeye
Maria Clara
Yakko, Wakko and Dot
Pinky and the Brain
Sonic the Hedgehog
Mario and Luigi
The Pink Panther
Rocky and Bullwinkle
Boggy B
Squidward Tentacles
Sandy Cheeks
Eugene Krabs
Jimmy Neutron
The Powerpuff Girls
Ed, Edd and Eddy
Ben Tennyson
Monica de Sousa
Timmy Turner
Jimmy Five
Woody the Cowboy
Lightning McQueen
Wiris Viana
Isadora and Jennifer
Buzz Lightyear
Arnold Shortman
Rocko Wallaby
Bart Simpson
Homer Simpson
Oswald the Lucky Rabbit
The ThunderCats
Chicken Little
Pac-Man
Peter Griffin
Minor characters
Kick Buttowski
Johnny Test
Kaio Gabriel TheGreenDayAndPowerpuffGirls Fan
Luiz Henrique LH
The Teen Titans
Fidget Kidd
Finn and Jake
Uncle Grandpa
Clarence Wendell
Cousin Kyle
Phineas and Ferb
Perry the Platypus
Steve (Minecraft)
El Chavo
The Minions
Angry Birds
Mr. Bean
The Smurfs
Marge Simpson
Lisa Simpson
Maggie Simpson
Riochet Rabbit
Tommy Pickles
Yogi Bear
Lazlo
Lois Griffin
Meg Griffin
Stewie Griffin
Brian Griffin
Roger Rabbit
In other wikis
Community content is available under
CC-BY-SA
unless otherwise noted.