The Patrick Show 
Creator:
Invader Rob

Sr.Wario 

Director:
IAmBagel 
Developer:
David Cardino 
Opening theme:
I Wrote This!, By Patrick Star 
Number of seasons:
4 
Number of episodes:
105 
Executive producer:
HomestarSB8 
Producer:
MattBoo 
Asst. producer:
Lightbulb44 
Production Company:
Wario Inc. 
Runtime:
24 minutes
The Patrick Show
is a spin-off of SpongeBob SquarePants. In the series, Patrick actidently falls in a pit while on vacation with SpongeBob and ends up metting some wacky friends. The series premeried on July 2, 2012. Most of the series is based around the adventures of Patrick Starfish.
Characters
Patrick Star: An idiotic yet adventurous starfish. His best friend is SpongeBob.
Freddie: A silent eel,who thinks Patrick is stupid,but trustworthy.
Mugget: A buff goldfish,and former BBW(Bikini Bottom Wrestling) member. He has lived in "The Pit" for years.
Cap: A greedy australian jellyfish who is also a retired pirate.
Stevent: A pepper,who is the mayor of "The Pit"
Charline: An innocent little girl fish,who fell into the pit years ago.
Jane: Patrick's older brother that he did knew he had.
Episodes
List of The Patrick Show episodes
Gallery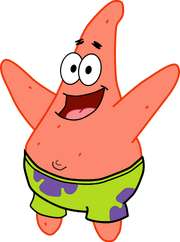 Community content is available under
CC-BY-SA
unless otherwise noted.